All Hail HUBO!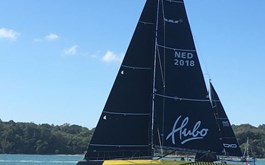 26 september 2019 - 'Hubo' the W36 Worlds Edition sailed by Erik van Vuuren is the Double Handed National Champion for 2019. We are delighted to become Double Handed National Champions, ..............
especially racing against such a talented fleet. I congratulate the RORC for the organisation and race management, especially given the tricky conditions – we look forward to defending our title next year'' – Erik van Vuuren
After completing the RORC Cowes – Cherbourg race over the weekend of the 6th/7th of September, Hubo lined up alongside a highly competitive fleet to battle it out in the inshore races.
On day one, with a crowded Solent and strong tides, race officer Steve Cole and the RORC race team opted to take the fleet to start in Osborne Bay and the opening race gave the fleet plenty of choices in a race eventually won by Gavin Howe and Sam Cooper sailing Tigris.
With a decreasing breeze the fleet made the most of the reduced tide in Osborne Bay with a couple of windward/leeward legs followed by a tricky across tide downwind leg to the finish in the middle of the Solent. Hubo showed that she was slippery enough in the light airs to win race Two ahead of the J109 Jubilee, sailed by Chris Preston and the Corby 33 Mrs Freckles, sailed by Lena Having.
After a dinner at the RORC Cowes clubhouse on the Saturday night, Sunday dawned with little wind and a bank of fog obscuring the mainland. The race team elected to postpone for an hour and then headed for Beaulieu entrance with the gradient wind expected there at around midday. Race three duly got underway at 1210 with a light breeze that gave the fleet options downwind, Jubilee spotted the advantage of a gybe towards the mainland shore and gained enough ground to win race three on corrected time ahead of Hubo and Tigris.
After a short wait, and with everyone keen to get the discard awarded after six races, the final race kept the race team busy extending the course as the wind built to a steady 10 knots. Hubo suffered gear failure and retired leaving Jubilee to take the race win and secure best performance in the Inshore series, followed by Jangada, sailed by Jeremy Waitt and Pomeroy Swan, the beautiful Swan 44 sailed by Paul Kavanagh.
At the prize giving, RORC Vice Commodore Nick Martin who was racing on his own boat Diablo, thanked everyone for attending and awarded the prizes to the winning teams.
Results:
1st: Hubo – Erik van Vuuren
2nd: Tigris – Gavin Howe and Sam Cooper
3rd: Jubilee – Chris Preston
Best Inshore – Jubilee – Chris Preston
---